Summers here and the suns blazing, time to get yourself the hottest swimwear and bikinis possible and get on the beach. It's time to get yourself some super cool bikinis or if you have an upcoming birthday you need to buy someone a present for, what better than to buy them the hottest swimsuit on the streets. This year's swimwear styles are burning up the volleyball courts and sizzling on the sands.You'll turn heads on the beach this holiday season in this years hottest colours and swimwear styles.
Flower Power! Hippy style is making a comeback and could well be the coolest fashion at the moment. Floral prints are huge on the beach this year, and when we say huge, we mean massive. Stylized poppies, flower power daisies and big, bright sunflowers look brilliant on just about every type of swimsuit from bandeau tops to the teeniest thong bikini bottoms. On monokinis and maillots, look for all over floral prints in bright colours, or a single painted vine twining up the side of a suit to accentuate all the right curves.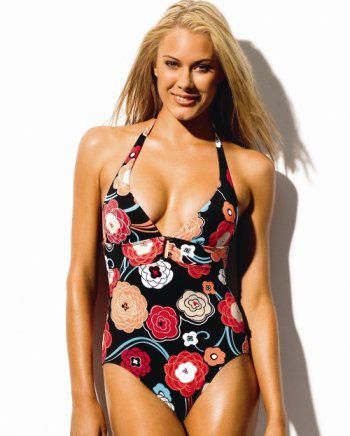 Animal prints are hot, hot, HOT this season. Tropical jungle themes are killer this in this summers swimwear collections with patterns and prints that include leopard, cheetah and zebra. But don't expect to blend in when you wear a tiger-striped bikini, you'll be turning heads all over. Turn up the jungle cat in you with a leopard print bikini or show your wild side in a classy black and white Zebra print bikini. Get some matching accessories and you'll look like a real Californian beach chick!
A lovely looking Cheetah print bikini. This particular bikini is a micro bikini – one for the more daring and confident.
Most of the 'in' swimwear this year will make for some strange tan lines, but that's nothing a little body make up can't fix anyway. Swimwear laced-up sides and fronts are the newest hit on the sands, combining the illusion of modesty with a daring side that says 'undo me' will make you the hottest sight on the beach. The best new back treatment is a criss-cross lacing that lets you bare your back without fear of indecent exposure.
Vintage and retro swimsuits are also making an amazing comeback this season – the retro flourishes feature updates that make them totally this century. Look for a remake of an original retro suit as often real vintage suits go for hundreds or even thousands of dollars. A lot of vintage fashion has come full-circle and is now back in fashion, swimsuits are definitely the strongest of the old-skool styles, with the cool looking pin-up styles which have never gone out of fashion!
Even Katy Perry has adopted the retro pin-up look on her latest album and has pulled it off with style! Proving that old really is the new new!
There are hundreds of different styles and cuts of bikini nowadays. Some of the hottest styles feature twisted bandeau tops that look great on just about every bust line. If you're too shy to strut a small bikini, opt for boy shorts with a bandeau top, it's a sporty look that shows off your curves without looking like anythings about to slip out! If you're really daring, really go for it with a Brazilian cut bikini which exposes a lot of the buttocks, or if you're really confident with your figure, try a micro bikini.